As The Comfort Technology Company™, Saucony products offer a range of innovative features that are exclusive to Skechers.
Men's Walking SLIP-INS TECHNOLOGY
Step into easy-wearing comfort with Skechers Hands Free Slip-ins™: Ultra Flex 3.0. Designed with our exclusive Heel Pillow™. This style features a Stretch Fit® engineered upper with a cushioned Skechers Air-Cooled Memory Foam® insole.
MASSAGE FIT TECHNOLOGY™
Each pair offers dual-density Hyper Burst® cushioning with the firmer wave section in the middle of the outsole delivering a gentle massage sensation with every step.
ARCH FIT TECHNOLOGY™
Featuring Arch Fit technology features a patented design that offers podiatrist-certified arch support developed using over 20 years of data. The removable and supportive cushioning insole delivers the ultimate solution for all-day comfort.
MAX CUSHIONING™ TECHNOLOGY
Experience new levels of cushioned comfort and exceptional support with Skechers Max Cushioning™. Every pair offers a huge super lightweight layer of Ultra GO® cushioning plus an Air-cooled Goga Mat™ insole that feels amazing morning to night.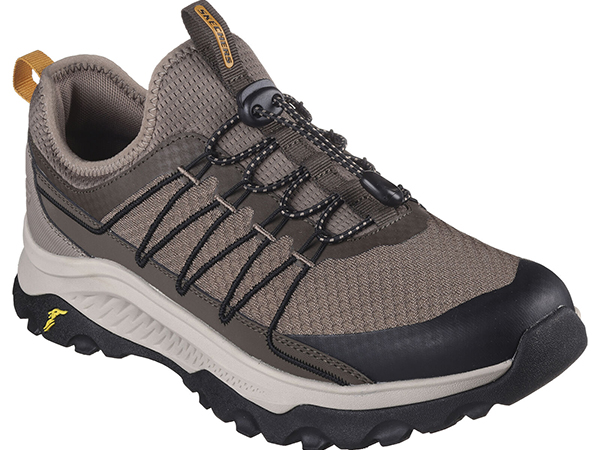 Relaxed Fit: Montello – Brockden
See the sights and feel the comfort wearing Skechers Relaxed Fit®: Montello – Brockden. This roomy outdoor pull-on features a honeycomb mesh upper with synthetic overlays, quarter panel detailing, an adjustable stretch-lace front, and a durable Goodyear® Rubber Outsole.
Skechers Air-Cooled Memory Foam® cushioned comfort insole
Relaxed Fit® for a roomy comfort fit at toe and forefoot
Skechers Goga Mat Arch™ cushioning for added support
Goodyear® Performance Outsole delivers enhanced traction, stability and durability
Mesh and synthetic upper with quarter panel detail and cinch fit stretch laces
Durable contoured midsole
1 1/2-inch heel
Skechers® logo detail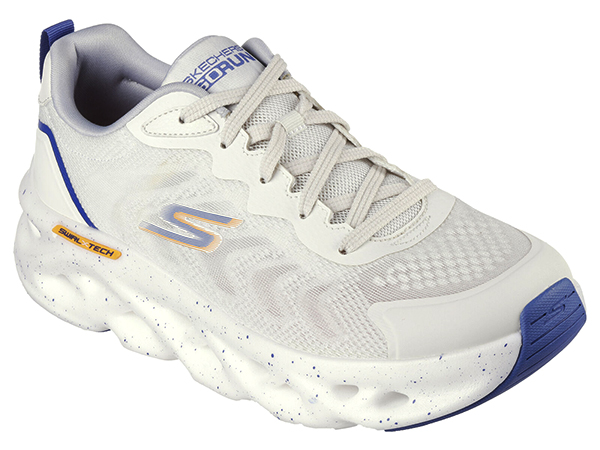 GO RUN Swirl Tech – Breeze
Advanced running technologies with cooling comfort combine in Skechers GO RUN® Swirl Tech™ – Breeze. This lace-up features a HYPER BURST® midsole fused with Glide-Step® and Skechers Max Cushioning™ in an ultra-lightweight running design.
HYPER BURST® cushioning midsole offers a highly responsive and ultra-lightweight experience. This innovative resilient foam is created using a 'Super Critical®' process with spherically-shaped cells compressed into the midsole.
Skechers Max Cushioning™ design for exceptional comfort and support
Glide-Step® geometric midsole designed to provide natural momentum with every step
Skechers Air-Cooled Goga Mat™ breathable insole with high-rebound cushioning
Breeze-Tech™ design panels for breathable cooling comfort
Goodyear® Performance Outsole delivers enhanced traction, stability and durability
Engineered mesh upper with lace-up front
Sleek hot-melt overlays at toe, heel and laces
2-inch height
Skechers® logo detail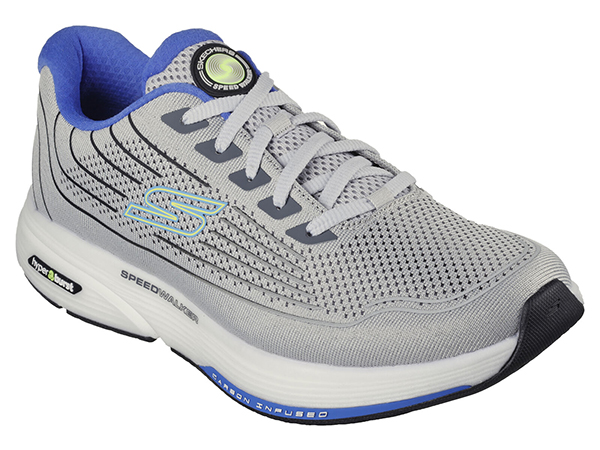 GO WALK Speed Walker
Upgrade your walks with the latest in comfort technology wearing Skechers GO WALK Speed Walker™. This walking design features a lace-up mesh and synthetic haptic print upper with a removable Skechers Arch Fit® insole, Hyper Burst® cushioning with Hyper Arc™ technology, and a Goodyear® Performance Outsole
Patented Skechers Arch Fit® insole system with podiatrist-certified arch support
Podiatrist-designed shape developed with 20 years of data and 120,000 unweighted foot scans
Removable insole helps mold to your foot to reduce shock and increase weight dispersion
HYPER BURST® cushioning midsole offers a highly responsive and ultra-lightweight experience. This innovative resilient foam is created using a 'Super Critical®' process with spherically-shaped cells compressed into the midsole.
HYPER ARC™ adapts to your stride to promote a smoother transition for a more efficient walk
Goodyear® Rubber Outsole for enhanced traction, stability and durability
Mesh and synthetic haptic print upper with a lace-up front
1 1/2-inch heel
Skechers® logo detail