Work Boots
Whether you're trying to stay light on your feet, protected in the harshest of work environments, or safe around workplace hazards, Rocky Boots has you covered with our line of work boots. Our men's work boots are designed with safety and comfort in mind. We offer a large variety of work boots for men with safety and comfort features to keep you on your feet through the toughest and longest shifts.
If you are working in a hazardous environment with heavy items or machinery around you will want to take a look at our selection of steel toe or composite toe work boots. If you need to stay warm or dry on the jobsite you can browse our collection of insulated or waterproof boots. We also have you covered from workplace hazards with our electrical hazard boots and oil and slip resisting boots. You can also stay light on your feet with our Workknit LX collection of lightweight work shoes. Also make sure to check out our selection of women's work boots.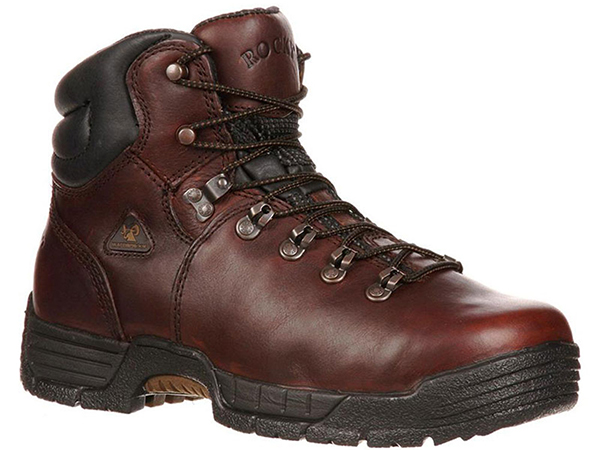 Rocky MobiLite Steel Toe Waterproof Work Boots-small
Rocky® Waterproof
Rocky® Waterproof construction ensures the highest level of waterproof protection while maintaining breathability.
Protective Toe
Impact testing determines the amount of protection to the toe under various foot pounds of force. Compression testing determines the amount of static pressure a steel/composite toe cap can withstand. Our boots are I75/C75
Guaranteed Rocky® Waterproof construction
Polyurethane Footbed
TPU Torsion stabilizer
Widest oblique toe box in the industry
Oil- and slip-resistant, 3-density EVA midsole and rubber Mobilite outsole
ASTM F2413 protective toe classification
ASTM F2413 electrical hazard standard
2 Inch heel
6 Inches in height
Weight: 4.2 pounds per pair for a size 10
1st Med Carbon Fiber Toe Puncture-Resistant Side-Zip Waterproof Public Service Boot
Alpha Force Steel Toe Fully Puncture-Resistant Waterproof Work Boot
ams Horn Lace to Toe Composite Waterproof Work Boot
Aztec Waterproof Wellington Work Boot
BearClaw GORE-TEX® Waterproof 200G Insulated Outdoor Boot
Blizzard Stalker Steel Toe Waterproof 1200G Insulated Work Boot
Elk Stalker Waterproof Composite Toe Work Boot
Forge 6 Inch Composite Toe Waterproof Work Boot
Forge 6 Inch Composite Toe Waterproof Work Boot
Forge 8 Inch Work Boot
Forge Wellington Composite Toe Waterproof Work Boot
Industrial Athletix Composite Toe Static-Dissipative Work Shoe
Industrial Athletix Hi-Top Composite Toe Work Shoe
Industrial Athletix Lo-Top Composite Toe Work Shoe
IronClad Steel Toe Met Guard Waterproof Work Boots
IronClad Steel Toe Waterproof Work Boot
IronClad Steel Toe Waterproof Work Boot
IronClad Steel Toe Waterproof Work Boots
IronClad Steel Toe Waterproof Work Boots
IronClad Steel Toe Waterproof Work Boots
IronClad Waterproof Work Boot
IronClad Waterproof Work Boots
IronClad Waterproof Work Boots
"""Legacy 32 6″""" Composite Toe Waterproof Work Boot
"""Legacy 32 8″""" Composite Toe Waterproof Work Boot
Legacy 32 Composite Toe Waterproof Pull-On Work Boot
Legacy 32 Composite Toe Waterproof Work Boot
Legacy 32 Waterproof Work Boot
LX Athletic Work Shoe
MobiLite Composite Toe Waterproof Work Boots
MobiLite Steel Toe Waterproof Oil-Resistant Work Boot
MobiLite Steel Toe Waterproof Work Boots
MobiLite Waterproof Work Boot
"""ndustrial Athletix Composite Toe 3 Work Shoe
Original Ride 200G Insulated Waterproof Wellington Boot
Original Ride Steel Toe Western Boot
Outback GORE-TEX® Waterproof Hiker Boot
Outback GORE-TEX® Waterproof Steel Toe Work Boot
Rams Horn Composite Toe Waterproof 800G Insulated Work Boot
Rams Horn Composite Toe Waterproof Work Wedge
Rams Horn Composite Toe Work Boot
Rams Horn Lace to Toe Composite Waterproof Work Boot
Rams Horn Lace to Toe Waterproof Work Boot
Rams Horn Lace to Toe Waterproof Work Boot
Rams Horn Logger Composite Toe Waterproof 400G Insulated Work Boot
Rams Horn Logger Composite Toe Work Boot
Rams Horn Logger Waterproof Composite Toe Work Boot
Rams Horn Logger Waterproof Work Boot
Rams Horn Unlined Brown Work Wedge
Rams Horn Waterproof Composite Toe Internal Met Guard Work Boot
Rams Horn Waterproof Composite Toe Pull-On Work Boot
Rams Horn Waterproof Composite Toe Pull-On Work Boot
Rams Horn Waterproof Composite Toe Work Boot
Rams Horn Waterproof Composite Toe Work Boot
Rams Horn Waterproof Composite Toe Work Boot
Rams Horn Waterproof Composite Toe Work Boot
Rams Horn Waterproof Logger Boot
Rams Horn Waterproof Outdoor Boot
Rams Horn Waterproof Pull-On Work Boot
Rams Horn Waterproof Pull-On Work Boot
Rams Horn Waterproof Work Boot
Rams Horn Waterproof Work Boot
Rams Horn Waterproof Work Boot
Rams Horn Waterproof Work Wedge
Ranger Steel Toe GORE-TEX® Waterproof 600G Insulated Outdoor Boot
Rebound SR Sport Composite Toe Work Shoe
Rebound Wedge Composite Toe Work Boot
Rebound Wedge Waterproof Work Boot
Rocky Rams Horn Waterproof Pull-On Work Boot
ronClad Waterproof Work Boot
Rugged AT Composite Toe Waterproof Work Boot
Rugged AT Composite Toe Waterproof Work Boot
Rugged AT Composite Toe Work Sneaker
Sport Utility 600G Insulated Waterproof Boot
Sport Utility Pro Steel Toe Waterproof 600G Insulated Work Boot
Square Toe Logger Composite Toe Waterproof Work Boot
Square Toe Logger Waterproof Work Boot
TrailBlade Composite Toe Waterproof Athletic Work Shoe
Waterproof Steel Toe Work Boot
WorkKnit LX Alloy Toe Athletic Work Shoe
Worksmart 6 Inch Composite Toe Waterproof Work Boot
"""Worksmart 6″""" Waterproof Composite Toe Work Boot
Worksmart 8 In Composite Toe Waterproof Work Boot
"""Worksmart 8″""" Waterproof Composite Toe Work Boot
Worksmart Composite Toe Internal Met Guard Waterproof Work Boot
Worksmart Composite Toe Internal Met Guard Waterproof Work Boot
Worksmart Composite Toe Waterproof Work Boot
Worksmart Composite Toe Waterproof Work Boot
Worksmart MET Guard Puncture-Resistant Composite Toe Waterproof Work Chelsea Boot
Worksmart Waterproof Composite Toe Pull-On Work Boot
Worksmart Waterproof Composite Toe Work Chelsea Boot