Work Boots
Whether you're trying to stay light on your feet, protected in the harshest of work environments, or safe around workplace hazards, Rocky Boots has you covered with our line of work boots. Our men's work boots are designed with safety and comfort in mind. We offer a large variety of work boots for men with safety and comfort features to keep you on your feet through the toughest and longest shifts.
If you are working in a hazardous environment with heavy items or machinery around you will want to take a look at our selection of steel toe or composite toe work boots. If you need to stay warm or dry on the jobsite you can browse our collection of insulated or waterproof boots. We also have you covered from workplace hazards with our electrical hazard boots and oil and slip resisting boots. You can also stay light on your feet with our Workknit LX collection of lightweight work shoes. Also make sure to check out our selection of women's work boots.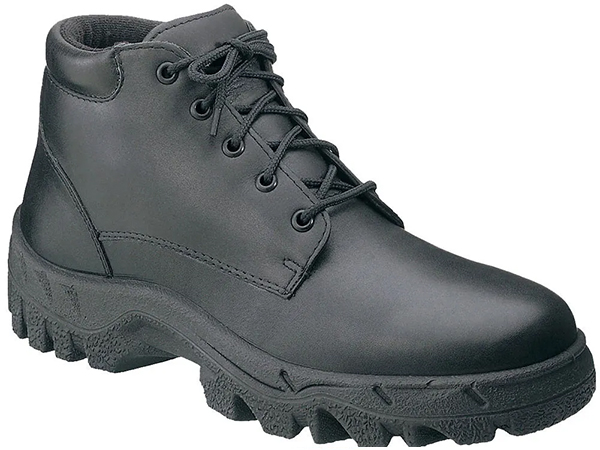 Rocky Women's TMC Uniform Chukkas – Black
The Rocky® Women's TMC Postal-Approved Chukka Public Service Boot brings together comfort and durability for a footwear solution to all your workday needs. A hardworking woman deserves a hardworking shoe, and this chukka boot boasts the features that fuel productivity.
This six-inch boot is made from black, full-grain leather. The water-resistant and polishable material guarantees your favorite work shoe will keep you looking professional for years. This women's work boot is both Berry-Compliant and S.R. USA Postal-Approved. It's an American product for the best of America's employees.
Enjoy the convenience and support of a non-metallic stabilizer. You can carry on anywhere feeling confident and comfortable doing your important job. The slip- and oil-resistant TMC Direct Attach TPU/PU outsole offers flexibility and stability for a steady stride. Take on trying conditions with certainty that you'll remain secure and capable of completing your tasks.
This women's chukka boot provides exceptional, contoured comfort with the Rocky Air-Port™ cushion footbed which has been even further enhanced by an Aegis® Microbe Shield applied to fight bacteria. Be comfortable all day, all week and all year. This supportive feature is designed to last.
If you're looking for the work shoe that will let you do your best work yet, the Rocky Women's TMC Postal-Approved Chukka Public Service Boot is a powerful product!
Made in the USA, Berry Compliant
Non-metallic stabilizer
Full-grain water-resistant leather
Polishable
Aegis Microbe Shield Applied to Rocky® Air-Port™ cushion footbed
Slip and Oil Resistant TMC Direct Attach TPU/PU outsole for Stability and Flexibility
S.R. USA Postal Approved
6 Inches in height