Hunting Boots
Do one thing and do it right. For over a century, that's what Lacross Footwear has been doing — making the best rubber boots. Period. Boots that won't let you down. Boots that know a thing or two about toughness, durability, and comfort. Whether for hunting, working, or tending the land upon which they tread, Lacross boots give you the freedom to focus on what matters most to you. Because that's what matters most to us.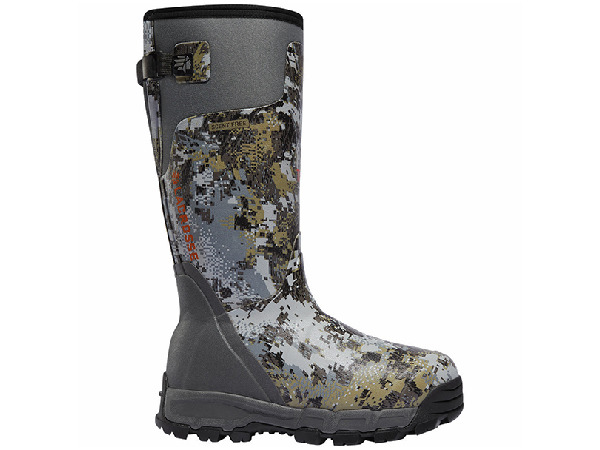 Women's Alphaburly Pro
Optifade Elevated II 1000G
Hunting whitetail requires patience and perseverance amidst the harshest conditions — remaining quiet, covert, and ready for that pivotal moment. The Alphaburly Pro Optifade Elevated II is your answer to every conceivable obstacle during the hunt, whether it's climbing into a tree stand or recovering your buck from a swamp.
100% Waterproof Protection
Rubber is naturally waterproof and with our proven formulas, our rubber remains durable and waterproof year after year.
1000G Thinsulate Ultra
High-performance insulation that keeps you warm in the snow and rain without weighing you down.
GORE OPTIFADE Elevated II
Complete your Sitka® Gear system with the only boots to use GORE™ OPTIFADE™ Concealment. This pattern is designed around animal vision and not human eyesight, preventing prey from ever recognizing you as a predator. The Elevated II pattern is specifically designed for whitetail hunters and is optimized for ranges of 80 yards and under, keeping you concealed 15 feet above the ground in your tree stand.
Active Fit
With a comfortable, secure fit to keep your foot in place while on the move, boots with Active Fit also go on and come off with ease.
Neoprene Gusset
Durable, neoprene gusset accommodates different calf sizes and makes it easy to slide the boot on and off.
Burly Pro Outsole
Our unique tread pattern gives you the traction to move through demanding terrain while chamfered edges keep you fast on your feet by shedding the mud and muck.