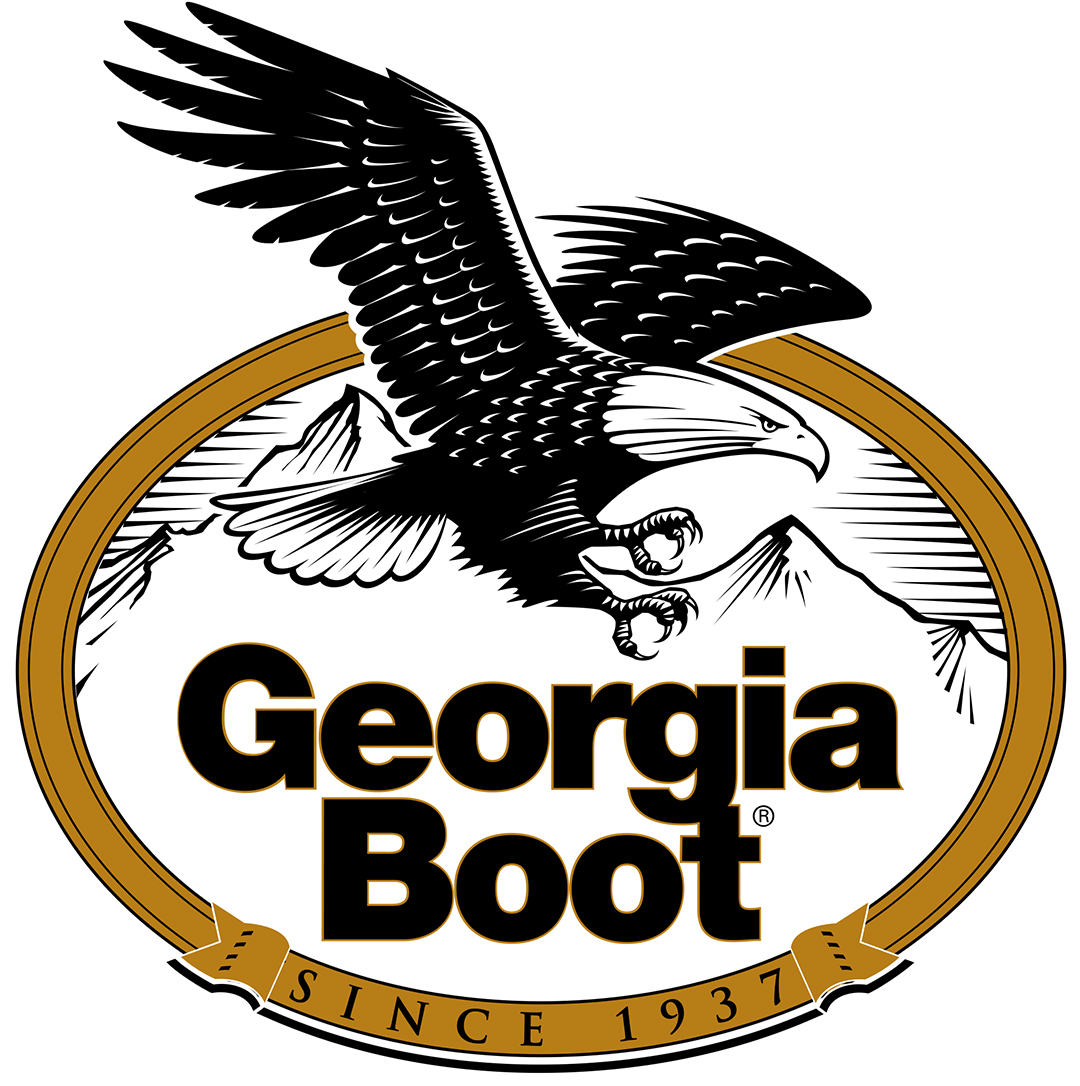 Work Boots
No matter how hard you work Georgia®️ work boots will have you covered. Georgia Boot's men's work boots are built to be long lasting and durable, with many of their work boots being made with a Goodyear Welt, a high quality construction method that provides a durable and replaceable sole for your boots. Combine this with the comfort provided by one of Georgia Boot's AMP or Comfort Core insoles and you have a pair of boots that you won't want to stop wearing.
Georgia Boot's men's works boots are designed to be ready for whatever the job requires, built for all-day comfort because the day isn't over when the shift ends. Georgia work boot pride themselves on providing the best leather work boots for men, which means maintaining the highest quality standards while also making them affordable. The benefit of owning Georgia Boot work boots is that you can assure you're receiving leather work boots that have been tried and tested to last.
With their wide range of safety and comfort features you can find exactly what you need for your job. For different work surfaces they have a great collection of wedge sole work boots as well as high heeled and low heeled logger boots. You can keep your feet safe in hazardous environments with one of their steel toe or composite toe styles, or go with one of their met guard boots for maximum protection. Does your work take you outside? Keep your feet warm and dry in one of Georgia's insulated or waterproof styles. Also be sure to check out their women's work boot selection or the famous Georgia®️ Romeo for a work shoe the whole family will want to wear.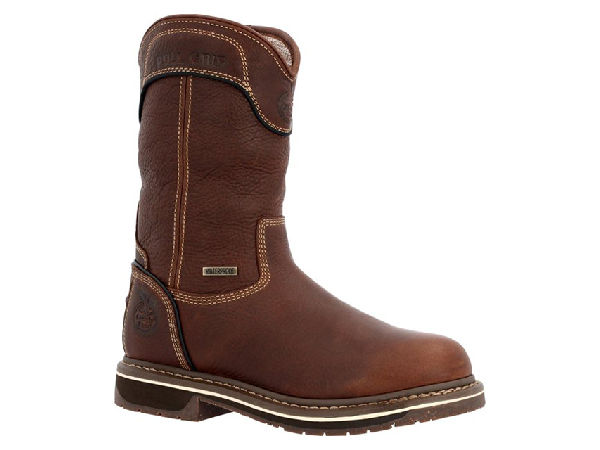 Georgia Boot AMP LT Edge Waterproof Pull On Work Boot
Water Proof
Don't sweat it. Air gets in, even though water can't. Water can try to flow past this obstacle, but there's a 100% guarantee it won't. The Georgia Waterproof system comes equipped with a heavily fortified defense against water, because dry feet are happy feet.
Electrical Hazard
Footwear is built with nail-free construction to help insulate you from the ground to slow down conduction, but is not intended to be primary protection against electric shock. Leather footwear must be dry. Our electrical hazard boots meet and exceed ASTM electrical hazard standards.
Georgia waterproof system • EVA midsole • SPR full-grain leather • Fiberglass shank • Heel-stabilizing Counter Lock • 10 Inches in height • Reinforced toe stitch • 15-inch calf circumference • ASTM F2892 electrical hazard standard • High performance mesh lining • Weight: 3.9 pounds per pair for a size 10 • AMP LT insole with memory foam • Grip panels for easy pull on • Goodyear® welt construction • Heat, chemical, abrasion, and slip-resisting dual-density EVA and Carbo-Tec rubber outsole • Twin gore panels with larger opening for easier on/off • Non-woven welt board and rib for lateral stability
AMP LT Edge Waterproof Alloy Toe Work Boot
AMP LT Edge Waterproof Moc-Toe Work Boot
AMP LT Edge Waterproof Pull On Work Boot
AMP LT Edge Waterproof Work Boot
AMP LT Logger Composite Toe Low Heel Waterproof Work Boot
AMP LT Logger Composite Toe Waterproof Work Boot
AMP LT Logger Composite Toe Waterproof Work Boot
AMP LT Logger Low Heel Waterproof Work Boot
AMP LT Logger Low Heel Waterproof Work Boot
AMP LT Power Wedge Composite Toe Work Boot
AMP LT Power Wedge Work Boot
AMP LT Wedge Moc-Toe Work Boot
AMP LT Wedge Pull On Work Boot
AMP LT Wedge Steel Toe Waterproof Chelsea Work Boot
Amp LT Wedge Steel Toe Waterproof Pull On Work Boot
AMP LT Wedge Steel Toe Waterproof Work Boot
AMP LT Wedge Waterproof Moc-Toe Work Boot
AMP LT Wedge Waterproof Pull On Work Boot
AMP LT Wedge Waterproof Work Boot
AMP LT Wedge Work Boot
AMP LT Wedge Work Romeo
Amplitude Composite Toe Waterproof Work Boot
Amplitude Men's Waterproof Work Boot
Athens 360 Steel Toe Waterproof Chelsea
Athens 360 Steel Toe Waterproof Pull-on Work Boot
Athens 360 Waterproof Pull-On Work Boot
Athens 360 Waterproof Work Boot
Athens Chelsea Waterproof Work Boot
Athens Pull-On Work Boot
Athens Steel Toe Waterproof Work Boot
Athens SuperLyte Alloy Toe Waterproof Wellington Pull-On
Athens SuperLyte Waterproof Wellington Pull-On Boots
Athens SuperLyte Waterproof Work Chelsea Boot
Athens Waterproof Side-Zip Boot
Athens Waterproof Side-Zip Upland Boot
Athens Waterproof Snake Boot
Athens Waterproof Wellington Work Boot
Athens Waterproof Work Boot
Blue Collar Chelsea Waterproof Work Romeo Boot
Brewmaster Composite Toe Waterproof Chelsea
Brewmaster Composite Toe Waterproof Work Boot
Brookville Steel Toe Waterproof Work Boot
Brookville Waterproof Work Boot
Carbo-Tec LT Alloy Toe Waterproof Pull-On Boot
Carbo-Tec LT Composite Toe Waterproof Work Wellington
Carbo-Tec LT Pull-On Boot
Carbo-Tec LT Steel Toe Waterproof Pull On Work Boot
Carbo-Tec LT Waterproof Chelsea Work Boot
Carbo-Tec LT Waterproof Lacer Work Boot
Carbo-Tec LT Waterproof Pull On Boot
Carbo-Tec LT Waterproof Pull-On Work Boot
Carbo-Tec LTX Insulated Waterproof Work Boot
Carbo-Tec LTX Waterproof Composite Toe Pull On Boot
Carbo-Tec LTX Waterproof Composite Toe Work Boot
Carbo-Tec LTX Waterproof Work Boot
Carbo-Tec Waterproof Pull-on Boot
Carbo-Tec Wellington
Cedar Falls Wallabe Shoe
Comfort Core Composite Toe Waterproof Logger Work Boot
Comfort Core Logger Composite Toe Waterproof Work Boot
Comfort Core Logger Waterproof Work Boot
Comfort Core Waterproof Low Heel Logger Work Boot
DuraBlend Sport Composite Toe Athletic Hi-Top
DuraBlend Sport Composite Toe Athletic Work Shoe
DuraBlend Sport Composite Toe Electrical Hazard Athletic Work Shoe
Eagle Light Wide Load Steel Toe Work Hiker
Eagle Light Work Boot
Eagle One Steel Toe Waterproof Chelsea Boot
Eagle One Steel Toe Waterproof Chelsea Work Boot
Eagle One Steel Toe Waterproof Work Boot
Eagle One Waterproof Chelsea Work Boot
Eagle One Waterproof Pull On Work Boot
Eagle One Waterproof Work Boot
Eagle Trail Alloy Toe Waterproof Hiker
Eagle Trail Waterproof Hiker
Eagle Trail Waterproof Oxford
Farm and Ranch Lacer Work Boot
Farm and Ranch Pull On Work Boot
Farm and Ranch Waterproof Boots
FLXpoint Composite Toe Waterproof Work Boot
FLXpoint ULTRA Composite Toe Waterproof Chelsea
FLXpoint ULTRA Composite Toe Waterproof Wellington Pull-On
FLXpoint ULTRA Composite Toe Waterproof Work Boot
FLXpoint ULTRA Waterproof Work Boot
FLXpoint Waterproof Composite Toe Work Boots
FLXpoint Waterproof Work Boot
GBR Rubber Pull-On Work Boot
Giant High Romeo Waterproof Steel Toe Boot
Giant Revamp Romeo Shoe
Giant Revamp Waterproof Chelsea Work Boot
Giant Revamp Waterproof Work Boot
Giant Romeo Steel Toe Work Shoe
Giant Romeo Work Shoe
Giant Steel Toe Work Boots
Giant Waterproof High Romeo Boot
Giant Wellington Pull-On Work Boot
Giant Work Boot
Giant Work Boot
Hammer Internal Metatarsal Steel Toe Work Boot
Homeland Steel Toe Waterproof Wellington
Homeland Steel Toe Waterproof Work Boot
Homeland Waterproof 600G Insulated Work Boot
Homeland Waterproof Wellington Work Boot
Homeland Waterproof Work Boot
Lace-to-Toe GORE-TEX® Waterproof 200G Insulated Work Boot
Lace-to-Toe Steel Toe Waterproof Work Boot
Lace-to-Toe Waterproof Work Boot
Logger Work Boot
Marshland Unisex Alloy Toe Pull-On Duck Boot
Marshland Unisex Chelsea Duck Boot
Marshland Unisex Duck Boot
Marshland Unisex Pull-On Duck Boot
MICHELIN® HydroEdge Internal Metatarsal Alloy Toe Waterproof Hiker
MICHELIN® HydroEdge Puncture Resistant Alloy Toe Waterproof Chelsea Work Boot
MICHELIN® HydroEdge Puncture Resistant Alloy Toe Waterproof Hiker
Michelin® HydroEdge Steel Toe Puncture-Resistant Waterproof Work Boot
Michelin® HydroEdge Steel Toe Waterproof Work Boot
MICHELIN® Latitude Tour Alloy Toe Athletic High Top Work Shoe
MICHELIN® Latitude Tour Alloy Toe Athletic Work Shoe
Michelin® Pilot Sledge Toe Metatarsal Work Boots
Michelin® Sledge Steel Toe Metatarsal Work Boots
Michelin® Steel Toe Internal Met Guard Work Boot
Muddog Composite Toe Waterproof Work Wellington
Muddog Steel Toe Waterproof Wellington
Muddog Steel Toe Wellington Work Boot
Muddog Waterproof Steel Toe Work Boot
Muddog Waterproof Work Wellington
Muddog Wellington Work Boot
Oiler Steel Toe Waterproof Work Boot
OT Alloy Toe Waterproof Work Boot
OT Internal Metatarsal Alloy Toe Puncture Resistant Work Boot
OT Waterproof Hiker Work Boot
OT Waterproof Pull On Work Boot
OT Waterproof Work Boot
Revamp Steel Toe Internal Met-Guard Waterproof Work Boot
Revamp Steel Toe Waterproof Work Boot
Romeo Work Shoe
Rumbler 8inch Composite Toe Waterproof Work Boot
Rumbler Composite Toe Waterproof Hiker
Rumbler Composite Toe Waterproof Pull-on Work Boot
Rumbler Composite Toe Waterproof Work Boot
Side Zip Waterproof Work Wellington
Steel Toe GORE-TEX® Waterproof 400G Insulated Logger Boot
Steel Toe Pull-On Work Boots
Steel Toe Static-Dissipative Work Pull On
Steel Toe Waterproof 400G Insulated Logger Work Boot
Steel Toe Waterproof Lace-To-Toe Work Boot
Steel Toe Waterproof Logger Boot
Steel Toe Waterproof Wellington
Steel Toe Work Boot
Suspension System Waterproof Wellington Work Boot
Suspension Wedge Steel Toe Waterproof Pull On
TBD Alloy Toe Waterproof Work Boot
TBD Waterproof Chelsea Work Boot
TBD Waterproof Wellington Pull-On Boot
TBD Waterproof Work Boot
USA Logger Composite Toe Waterproof Work Boot
Waterproof High Romeo Boot
Waterproof Lace-To-Toe Work Boot
Waterproof Logger Boot
Waterproof Mid Rubber Boot
Waterproof Rubber Boot
Wedge Chukka Work Boot
Wedge Moc Toe Work Boot
Wedge Romeo Work Shoe
Wedge Steel Toe Pull On Work Boot
Wedge Steel Toe Work Boot
Wedge Waterproof Chelsea Work Boot
Wedge Waterproof Work Boot
Wedge Work Boot
Wedge Work Wellington