Western Boots
For over 50 years, Double-H Boots® has redefined "extraordinary", by crafting innovative work western styles designed for today's new breed of cowboy — the hardworking men and women on the millions of farms, fields and ranches across America who demand performance and the best of durability, comfort and style. Double H prides themselves on using the best and most innovative technologies and materials in the construction of our western boots.
Aeroglide Outsole – This ultra Flexable outsole is oil & slip resistant and is designed with outstanding abrasion to be extremely long wearing
AG7™ Footbed – Supreme quality polyurethane comfort system with enhanced arch support.
AG8™ Footbed – An update to our AG7 Footbed. Supreme quality dual density polyurethane comfort system with enhanced arch support.
Comfort Insert – Soles designed and constructed with materials to meet the standard for slip resistance.
Double Tuff Insert – Removable single-density polyurethane removable footbed.
I.C.E.™ Equipped – Industrial Compressed Elastomer or I.C.E. is our longest-lasting outsole designed to resist abrasion.
Pillow Cushion™ Footbed – A layer of memory foam that wraps the foot in comfort. Combined with existing insole systems, it offers the ultimate in cushioned comfort.
Workflex – This ultra-strong outsole is designed to resist abrasion for longer wear.
3M Thinsulate™ – Insulation uses microfibers that trap dead air but do not absorb water, helping to keep feet warm even in damp conditions. Thinsulate™ is a trademark of 3M.
D3O® Met Guard – The D3O ® featured in Double-H Boots are engineered for advanced foot protection against impacts, while remaining soft and flexible for all day comfort in extreme conditions. When integrated into a boot correctly, D3O® Metguards pass both EN and ASTM industry metatarsal protection standards.
Kryptek – Specially designed for those geographical regions and elevations that are varied. Kryptek Highlander™ increases stealth when pursuing a wide range of quarry in mixed terrain.
Vibram® – The Vibram® brand is recognized for its high performance soling products used in rugged, outdoor and service footwear. VIBRAM® and the Yellow Octagonal Label are registered trademarks of Vibram® S.p.A. of Italy. Quabaug Corporation, North Brookfield, MA, is the North American manufacturer of Vibram® soling products under exclusive license.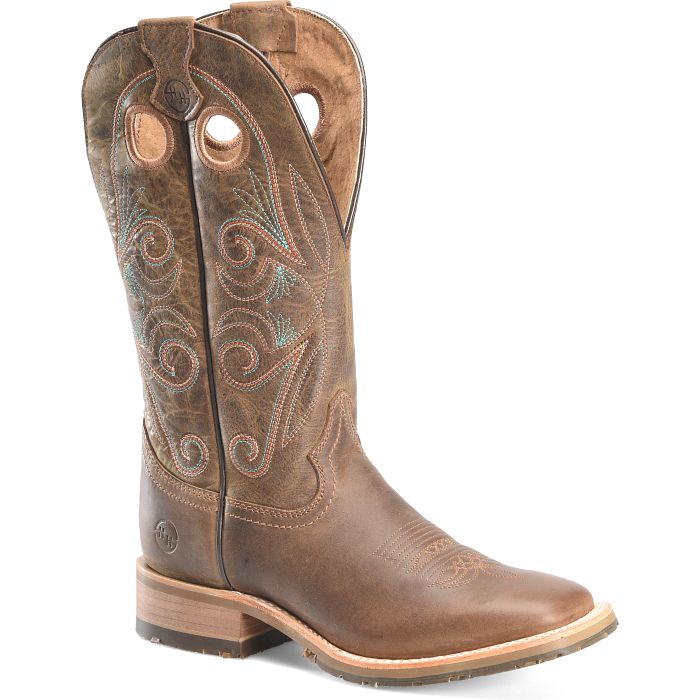 Grace
This Women's 12" Wide Square Toe Roper delivers the essential comfort and durability you need. It's equipped with a cushioned insert for support and our ultra-strong oil- and slip-resisting I.C.E.™ outsole and heel that are designed with outstanding abrasion resistance for longer wear.
Details
Crazyhorse Mad Oil Leather Upper
Wide Square Toe
Pig Skin Lining
¾ Leather Welt + Nailed Heel Construction
Removable PU Footbed
Texon Insole
Oil & Slip Resisting I.C.E.™ Outsole & Heel
Steel Shank
1 ⅝ Inch Stacked Heel