Work Boots
Built with premium components, Carolina Boot's vast line of high-quality men's footwear combines enduring comfort, support and durability for every type of job and work environment. Carolina Boots are designed to perform in the most rugged work environments, Carolina offers a complete collection of classic work, specialty and safety toe styles. Quality construction and state-of-the-art patented technologies deliver unparalleled safety, durability, and comfort.
Carolina boots for men are the top-of-the-line selection for professionals in trades such as logging, manufacturing and other industrial lines of work. Many of the brand's styles are designed and manufactured within the U.S., at their Pennsylvania factory. Carolina offers boots for men and women are tailored to an array of unique industrie like engineers, foremen and electricians, loggers, truckers, construction, farming, and many more.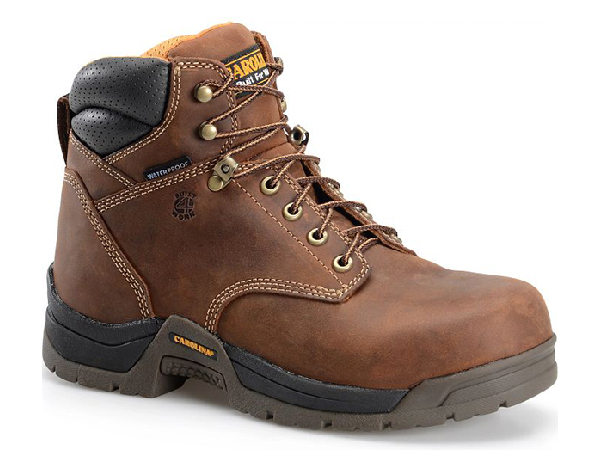 Bruno Lo 6″ Composite Toe Waterproof Work Boot
A tough boot with extra room for comfort in the toe – our men's 6″ waterproof broad toe composite toe work boot.
It's equipped with a composite safety toe cap and the enduring support of our Pillow Cushion™ insole and removable AG7™ footbed. A waterproof SCUBALINER™ adds to the comfort. The oil- and slip-resisting outsole provides durability and traction.
Copper Crazy Horse Leather Upper
Composite Safety Toe Cap
Removable AG7™ Polyurethane Footbed
EVA Midsole
Pillow Cushion™ Insole
Electrical Hazard Rated
Non-Metallic Shank
Cement Construction
Slip Resisting Rubber Outsole
"28 Series 6″" Composite Toe Waterproof Work Boot"
"28 Series 8″" Composite Toe Insulated Waterproof Work Boot"
"28 Series 8″" Composite Toe Waterproof Work Boot"
"28 Series 8″" Unlined Composite Toe Work Boot"
"28 Series 8″" Waterproof Work Boot"
"Actuator 11″" Met Guard Composite Toe Work Boot"
Align Voltrex Comp Toe Lo Work Shoe
"Amboyna 6″" Composite Toe Waterproof Hiker"
"Amp Lo 6″" Soft Toe Work Boot"
"Amp Mx 6″" Moc Toe Work Boot "
"Amp Mx 6″" Steel Toe Work Boot"
"Amp Mx 8″" Moc Toe Work Boot"
"Amp Mx 8″" Soft Toe Work Boot"
"Amp Mx 8″" Steel Toe Work Boot"
"Amp Usa 6″" Soft Toe Work Boot"
"Amp Usa 6″" Steel Toe Work Boot"
"Amp Usa 8″" Moc Toe Work Boot"
"Amp Usa 8″" Steel Toe Work Boot"
"Anchor 10″" Composite Toe Waterproof Roper Boot"
"Anchor 10″" Soft Toe Waterproof Roper"
"athode 8″" Composite Toe Waterproof Work Boot"
Braze Composite Toe Light Duty Work Boot
"Bruno Hi 8″" Composite Toe Insulated Waterproof Work "
"Bruno Hi 8″" Soft Toe Waterproof Work Boot"
"Bruno Internal 6″" Metguard Composite Toe Heavy Duty Boot"
"Bruno Lo 6″" Composite Toe Insulated Waterproof Work Boot"
"Bruno Lo 6″" Composite Toe Waterproof Work Boot"
"Bruno Lo 6″" Soft Toe Insulated Waterproof Work Boot"
"Bruno Lo 6″" Soft Toe Waterproof Work Boot"
"Builder 5″" Steel Toe Waterproof Hiker"
"Cancellor 6″" Composite Toe Waterproof Work Boot"
Cancellor Comp Toe Hi
Carolina Gold Cap Toe
Carolina Gold Chelsea
Carolina Gold Laceup
Carolina Gold Moc Toe
"Challenge 6″" Composite Toe Waterproof Hiker"
"Circuit 6″" Composite Toe Waterproof Work Boot"
"Circuit Hi 8″" Composite Toe Insulated Waterproof Work Boot"
Cogent Pull On Composite Toe Work Boot
"Constructor 5″" Composite Toe Waterproof Work Boot"
"Cortex Romeo 5.5″" Composite Toe Work Boot"
Derecho Aluminum Toe Work Shoe
"Dormite 6″" Composite Toe Waterproof Work Boot"
"Dormite 6″" Soft Toe Waterproof Work Boot"
"Dormite 8″" Composite Toe Insulated Waterproof Work Boot"
"Dormite 8″" Composite Toe Waterproof Work Boot"
"Duke 6″" Carbon Composite Toe Waterproof Work Boot"
"Duke 6″" Composite Toe Waterproof Work Boot"
"Duke 8″" Carbon Composite Toe Insulated Waterproof Work Boot"
"Duke 8″" Carbon Composite Toe Waterproof Work Boot"
Duke Oxford Composite Toe Work Shoe
Duke Romeo Composite Toe Work Shoe
Earthmover Comp Toe
"Elm 8″" Internal Met Guard Steel Toe Insulated Waterproof "
"Elm 8″" Soft Toe Insulated Waterproof Logger"
"Elm 8″" Steel Toe Insulated Waterproof Logger"
"Elm 8″" Steel Toe Unlined Logger"
"Elm 8″" Steel Toe Waterproof Logger"
"Elm 8″" Unlined Logger"
"Elm 8″" Waterproof Logger"
Elm Logger
"Energy 6″" Waterproof Composite Toe Hiker"
"Engineer 6″" Soft Toe Waterproof Work Boot"
"Engineer 6″" Steel Toe Work Boot"
"Extension 5″" Carbon Composite Toe Waterproof Hiker "
"Ferric 6″" Steel Toe Waterproof Work Boot"
"Ferric Usa 6″" Soft Toe Waterproof Work Boot"
"Ferric Usa 6″" Soft Toe Work Boot"
"Ferric USA 6″" Steel Toe Work Boot"
"Ferric Usa 8″" Soft Toe Work Boot"
"Ferric Usa 8″" Steel Toe Work Boot"
"Flagstone 6″" Carbon Composite Toe Waterproof Hiker"
Flux Work Sneaker
"Force 6″" Composite Toe Waterproof Hiker"
Force Oxford Composite Toe Work Shoe
"Foreman 6″" Met Guard Steel Toe Work Boot"
Foreman Steel Toe
"Forrest 8″" Composite Toe Insulated Waterproof Work Boot"
"Forrest 8″" Soft Toe Insulated Waterproof Work Boot"
"Forrest 8″" Soft Toe Insulated Waterproof Work Boot"
"Girder 11″" Composite Toe Waterproof Roper Boot"
"Granite 5″" Steel Toe Hiker"
Granite Oxford Steel Toe Hiker
"Granite Romeo 6″" Steel Toe Hiker"
Guardian Comp Toe
Gust Hi Aluminum Toe Work Boot
Gust Lo Aluminum Toe Work Shoe
Handler Comp Toe
"Hook 6″" Composite Toe Waterproof Work Boot"
"Installer 8″" Soft Toe Waterproof Work Boot"
"Installer 8″" Steel Toe Waterproof Work Boot"
Insulated Circuit Comp Toe
Internal Hi Met Guard Steel Toe Heavy Duty Work Boot
"Internal Lo 6″" Met Guard Steel Toe Heavy Duty Work Boot"
"Internal Lo 6″" Metguard Steel Toe Waterproof Heavy Duty Work Boot"
"Journeyman 8″" Soft Toe Insulated Waterproof Work "
"Journeyman 8″" Steel Toe Insulated Waterproof Work Boot "
Journeyman Lo Waterproof Work Boot
"Kauri 6″" Composite Toe Waterproof Work Boot"
"Laser 10″" Pull On Composite Toe Waterproof Work Boot"
"Limestone 6″" Steel Toe Waterproof Hiker"
"Linesman 10″" Soft Toe Waterproof Work Boot"
Lytning 1.9 Composite Toe Work Shoe
Lytning 1.9 Composite Toe Work Shoe
Lytning 1.9 Met Guard Composite Toe Composite Toe
Lytning 1.9 Met Guard Composite Toe Work Shoe
"Mandrel 10″" Composite Toe Waterproof Work Boot"
"Marlboro Lo 6″" Steel Toe Waterproof Work Boot"
"Millwright 6″" Soft Toe Waterproof Work Boot "
Miter Int
"Mud Jumper 10″" Steel Toe Waterproof Work Boot"
"Mud Jumper 15″" Insulated Waterproof Work Boot "
"Mud Jumper 15″" Soft Toe Waterproof Rubber Boot"
"Mud Jumper 15″" Soft Toe Waterproof Work Boot"
"Mud Jumper 15″" Steel Toe Waterproof Rubber Boot "
"Mud Jumper 5″" Soft Toe Waterproof Work Boot"
"Mud Jumper 7″" Soft Toe Waterproof Work Boot"
"Pitstop 6″" Composite Toe Insulated Waterproof Work Boot"
"Pitstop 6″" Composite Toe Waterproof Work Boot"
"Pitstop 8″" Composite Toe Waterproof Work Boot"
"Poplar 8″" Comp Toe Waterproof Logger"
"Poplar 8″" Composite Toe Insulated Waterproof Logger"
Poplar Comp Toe Logger
"Production Workflex 8″" Composite Toe Waterproof Work Boot"
"Quad 5″" Soft Toe Waterproof Hiker"
"Quad Carbon 5″" Composite Toe Waterproof Hiker"
"S-117 6″" Aluminum Toe Waterproof Work Boot"
S-117 Aluminum Toe Hiker
S-117 Aluminum Toe Slip On Shoe
S-117 Oxford Aluminum Toe Work Shoe
S-117 Romeo Aluminum Toe Work Shoe
S-117 Wallaby Aluminum Toe
"Sarge Hi 8″" Steel Toe Work Boot"
Sarge Hi Soft Toe Work Boot
"Sarge Lo 6″" Soft Toe Work Boot"
"Sarge Lo 6″" Steel Toe Work Boot"
"Silvanus 8″" Steel Toe Waterproof Work Boot"
"Spruce 8″" Soft Toe Waterproof Logger"
"Spruce 8″" Steel Toe Waterproof Logger"
"Spruce 8″" Steel Toe Waterproof Logger"
"Surveyor 8″" Soft Toe Insulated Waterproof Work Boot"
"Surveyor 8″" Steel Toe Insulated Waterproof Work Boot"
"Surveyor 8″" Steel Toe Waterproof Work Boot"
Talux Oxford Composite Toe Work Shoe
"Thermoset 8″" Soft Toe Insulated Waterproof Work Boot"
Voltrex Composite Toe Work Shoe
Voltrex Composite Toe Work Sneaker
Voltrex Low Composite Toe Work Shoe
Voltrex Waterproof Composite Toe Hiker
"Well X 10″" Metguard Composite Toe Ranch Wellington"
"Well X Workflex 10″" Comp Toe Pull On"
Windstorm Aluminum Toe Work Shoe