Work Boots
Since 1889, Carhartt has manufactured premium workwear known for exceptional durability. The same quality and standards are invested into our hardworking footwear products. Whether you need protection for your toes or extreme comfort for your feet, our Carhartt work boots are available as non-safety and safety toe boots to support your working conditions. Our footwear is available in a wide range of styles and materials to support your arches and desires including slip on boots for men like rubber boots and Wellington boots. Your safety is extremely important to us. Added benefits on many men's work boots include puncture-resistant styles that meet ASTM 2413-18 standards, electrical hazard protection from incidental contact, and heel guards to provide ankle stability with side-impact coverage. We want to keep you as safe as possible while on the jobsite, and our work boots help get the job done. And for everyday wear, our men's casual boots are durable enough for just about anything. Don't forget your boot socks, either! Save today when you shop our men's work boots.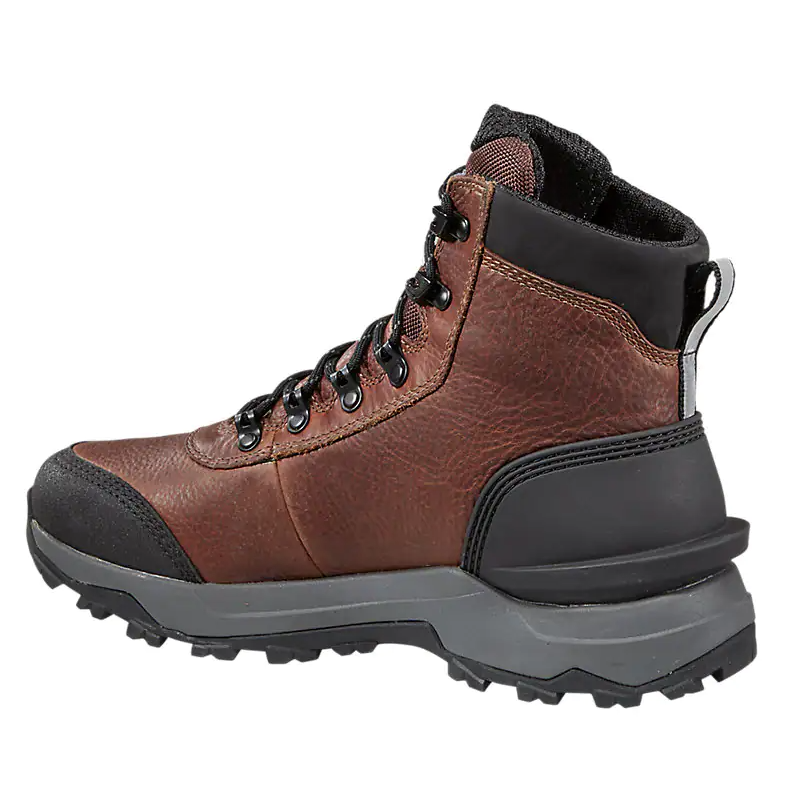 STYLE #FP6039-M INSULATED 6-INCH NON-SAFETY TOE HIKER BOOT
Function meets performance the New Balance Fresh Foam X 880v13. Featuring a plush and supportive Fresh Foam X midsole and NDurance rubber outsole, this shoe delivers enhanced performance and comfort with each step. Complete with clean lines and simple style, this running shoe has a modern look that's perfect for everyday use.
Whether you're on the job or at the campsite, you'll be ready for cold, wet weather in these men's hiking boots. Insulated for warmth, they have a waterproof membrane that keeps out rain and slush but allows heat and sweat to escape. The winter-ready rubber outsole is designed for traction on slippery trails and icy sidewalks.
Red-brown Full grain leather upper
Cement-constructed Vibram Arctic Grip outsole for superior traction on wet and icy surfaces
Storm Defender® waterproof breathable membrane and 400g LiteFire® insulation
Revolutionary light and high rebound EVA midsole with Insite® Technology Footbed
Insite® technology footbed engineered with maximum arch support to reduce foot fatigue
Reflective laces and heel pull-on tab
Easy-off heel-kicker utility ledge
Lightweight, high-rebound polyurethane midsole
Reflective laces and heel pull-on tab for visibility
Soft toe meets ASTM F2892-18 EH standards
10″ WELLINGTON WORK BOOT
1000 MILE PLAIN-TOE CLASSIC BOOT
1000 MILE PLAIN-TOE CLASSIC BOOT
1000 MILE PLAIN-TOE ORIGINAL BOOT
1000 MILE PLAIN-TOE RUGGED BOOT
AMHERST II CARBONMAX® WORK BOOT
BLADE LX WATERPROOF CARBONMAX® 10″ WELLINGTON
BLADE LX WATERPROOF CARBONMAX® 6″ BOOT
CABOR EPX® WATERPROOF COMPOSITE TOE 6″ BOOT
CABOR EPX® WATERPROOF COMPOSITE TOE 8″ WORK BOOT
CABOR EPX® WATERPROOF COMPOSITE TOE WELLINGTON
CHISEL 6″ STEEL-TOE WORK BOOT
CHISEL 6″ STEEL-TOE WORK BOOT
CHISEL 6″ STEEL-TOE WORK BOOT
CHISEL 6″ WORK BOOT
CHISEL 6″ WORK BOOT
DD WORK STEEL TOE WELLINGTON
DD WORK WELLINGTON
DUBLIN WATERPROOF INSULATED 6″ BOOT
DURASHOCKS® SLIP RESISTANT 6″ WORK BOOT
DURASHOCKS® SR 6″ BOOT
DURASHOCKS® SR DIRECT-ATTACH 6″ WORK BOOT
DURASHOCKS® SR DIRECT-ATTACH LINED 6″ WORK BOOT
DURASHOCKS® SR STEEL-TOE DIRECT-ATTACH 6″ WORK BOOT
DURASHOCKS® STEEL TOE INSULATED WATERPROOF WELLINGTON
DURBIN WATERPROOF 6″ WORK BOOT
EDGE LX EPX® WATERPROOF CARBONMAX® WORK BOOT
FLOORHAND INSULATED 6″ SOFT TOE WORK BOOT
FLOORHAND INSULATED 6″ STEEL-TOE WORK BOOT
FLOORHAND INSULATED 6″ STEEL-TOE WORK BOOT
FLOORHAND INSULATED 6″ STEEL-TOE WORK BOOT
FLOORHAND INSULATED 8″ STEEL-TOE WORK BOOT
FLOORHAND INSULATED 8″ STEEL-TOE WORK BOOT
FLOORHAND INSULATED 8″ WORK BOOT
FLOORHAND LX 6″ STEEL TOE WORK BOOT
FLOORHAND LX 6″ STEEL TOE WORK BOOT
FLOORHAND LX 6″ WORK BOOT
FLOORHAND LX 6″ WORK BOOT
FLOORHAND MOC TOE 6" WORK BOOT
FLOORHAND MOC-TOE 6″ STEEL-TOE WORK BOOT
FLOORHAND MOC-TOE 6″ STEEL-TOE WORK BOOT
FLOORHAND SQUARE-TOE STEEL-TOE WELLINGTON WORK BOOT
FLOORHAND STEEL-TOE WORK ROMEO
FLOORHAND SWAMP 6″ STEEL-TOE WORK BOOT
FLOORHAND SWAMP STEEL-TOE WORK WELLINGTON
FLOORHAND WATERPROOF 10″ WELLINGTON
FLOORHAND WATERPROOF STEEL-TOE 10″ WELLINGTON
FLOORHAND WORK ROMEO
RAIDER DURASHOCKS® 6″ BOOT
RAIDER DURASHOCKS® 6″ CARBONMAX® BOOT
RAIDER DURASHOCKS® CARBONMAX® WELLINGTON
RAIDER DURASHOCKS® HEAVY DUTY 6″ CARBONMAX™ WORK BOOT
RAIDER DURASHOCKS® HEAVY DUTY 6″ CARBONMAX™ WORK BOOT
RAIDER DURASHOCKS® HEAVY DUTY 8″ CARBONMAX™ WORK BOOT
RAIDER DURASHOCKS® HEAVY DUTY CARBONMAX™ WORK WELLINGTON
RAIDER DURASHOCKS® INSULATED 6″ BOOT
RAIDER DURASHOCKS® INSULATED 6″ CARBONMAX® BOOT
RAIDER DURASHOCKS® INSULATED 8″ CARBONMAX® BOOT
FORGE ULTRASPRING™ 6″ BOOT
GRAYSON STEEL TOE BOOT
HARRISON LACE-UP 6″ WORK BOOT
HARRISON LACE-UP STEEL-TOE 6″ WORK BOOT
HELLCAT FUSE DURASHOCKS® ULTRASPRING™ 6″ CARBONMAX™ WORK BOOT
HELLCAT FUSE DURASHOCKS® ULTRASPRING™ 6″ CARBONMAX™ WORK BOOT
HELLCAT FUSE DURASHOCKS® ULTRASPRING™ 6″ CARBONMAX™ WORK BOOT
HELLCAT FUSE DURASHOCKS® ULTRASPRING™ 6″ WORK BOOT
HELLCAT FUSE DURASHOCKS® ULTRASPRING™ CARBONMAX™ WORK…
HELLCAT ULTRASPRING™ 6″ CARBONMAX® WORK BOOT
HELLCAT ULTRASPRING™ CARBONMAX® WELLINGTON
HELLCAT ULTRASPRING™ MOC TOE WEDGE 6″ WORK BOOT
HUDSON STEEL-TOE WORK BOOT
I-90 DURASHOCKS® MOC-TOE 6″ WORK BOOT
I-90 DURASHOCKS® MOC-TOE 6″ WORK BOOT
I-90 DURASHOCKS® WATERPROOF INSULATED 6″ WORK BOOT
I-90 EPX® BOA® CARBONMAX® 6″ BOOT
I-90 EPX® BOOT
I-90 EPX® CARBONMAX® BOOT
I-90 EPX® ROMEO CARBONMAX® BOOT
KARLIN MOC TOE BOOT
KARLIN MOC TOE BOOT
KICKSTART DURASHOCKS® CARBONMAX® 6″ BOOT
LEGEND DURASHOCKS® CARBONMAX® 6″ BOOT
LEGEND DURASHOCKS® CARBONMAX® 6″ BOOT
LEGEND DURASHOCKS® CARBONMAX® 6″ BOOT
LOADER 6″ WEDGE BOOT
LOADER 8″ STEEL-TOE WEDGE BOOT
LOADER 8″ WEDGE BOOT
LUCKY BRAND LOADER
LUCKY BRAND LOADER
LUCKY BRAND WORKER
LUCKY BRAND WORKER
LUTON WATERPROOF HIKER
LUTON WATERPROOF HIKER
MARQUETTE STEEL-TOE 6″ WORK BOOT
MCKAY WATERPROOF STEEL-TOE 6" WORK BOOT
MCKAY WATERPROOF STEEL-TOE 8" WORK BOOT
MEN'S WOLVERINE RAIDER DURASHOCKS® WATERPROOF 6″ WORK BOOT
METALLICA SCHOLARS COLLECTION HELLCAT ULTRASPRING™ 6'' WORK…
MOC-TOE 6″ WORK BOOT
MOC-TOE STEEL-TOE EH 6″ WORK BOOT
OVERPASS CARBONMAX® 6″ BOOT
OVERPASS CARBONMAX® WELLINGTON BOOT
POTOMAC ENGLISH MOC STEEL-TOE 6″ WORK BOOT
RAIDER DURASHOCKS® INSULATED CARBONMAX® WELLINGTON
RAIDER DURASHOCKS® WATERPROOF 6″ CARBONMAX® WORK BOOT
RAIDER DURASHOCKS® WATERPROOF 6″ CARBONMAX® WORK BOOT
RAIDER DURASHOCKS® WATERPROOF CARBONMAX® WELLINGTON
RAIDER DURASHOCKS® WATERPROOF MET-GUARD WELLINGTON
RAIDER DURASHOCKS® WELLINGTON
RAIDER DURASHOCKS® WESTERN WORK WELLINGTON
RAIDER DURASHOCKS® WORK ROMEO
RAM TRUCKS COLLECTION – LIMITED 1000 MILE BOOT
RAM TRUCKS COLLECTION – REBEL SAFETY TOE WORK BOOT
RAM TRUCKS COLLECTION – TRADESMAN SAFETY TOE WORK BOOT
RAM TRUCKS COLLECTION – TRADESMAN SAFETY TOE WORK BOOT
RANCHER CLAW WELLINGTON
RANCHER DURASHOCKS® STEEL TOE WELLINGTON
RANCHER SQUARE-TOE STEEL-TOE WELLINGTON
RANCHER SQUARE-TOE WELLINGTON
RANCHER WATERPROOF STEEL-TOE WELLINGTON
RANCHER WATERPROOF STEEL-TOE WELLINGTON
RANCHER WATERPROOF STEEL-TOE WORK WELLINGTON
REV BOA® ULTRASPRING™ DURASHOCKS® VENT CARBONMAX™ WORK BOOT
REV ULTRASPRING™ DURASHOCKS® LX CARBONMAX™ WORK BOOT
REV ULTRASPRING™ DURASHOCKS® VENT CARBONMAX™ WORK BOOT
REV ULTRASPRING™ DURASHOCKS® VENT CARBONMAX™ WORK BOOT
REV ULTRASPRING™ DURASHOCKS® VENT WORK BOOT
REV VENT ULTRASPRING™ DURASHOCKS® CARBONMAX® BOOT
REV VENT ULTRASPRING™ DURASHOCKS® CARBONMAX® BOOT
SHIFTPLUS WORK LX 6″ ALLOY-TOE BOOT
SHIFTPLUS WORK LX 6″ ALLOY-TOE BOOT
SHIFTPLUS WORK LX 6″ BOOT
SIGHTLINE INSULATED 7″ BOOT
SPENCER WATERPROOF HIKING BOOT
WARRIOR MET-GUARD 6″ BOOT
WILDERNESS BOOT
WILDERNESS BOOT
WILDERNESS BOOT
WILDERNESS COMPOSITE TOE BOOT
WOLVERINE METALLICA SCHOLARS COLLECTION HELLCAT ULTRASPRING CARBONMAX 6'' WORK…